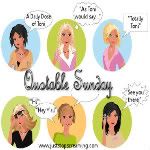 Since I have been absent from my blog for quite a while, I figured I would do some quotes in that regard. ENJOY!
Absence of evidence is not evidence of absence. - Dr. Carl Sagan
Absence sharpens love, presence strengthens it. - Benjamin Franklin
Friendship, like love, is destroyed by long absence, though it may be increased by short intermissions - Samuel Johnson
Absence makes the heart grow fonder.
Quotable Sunday is brought to you by Toni, from
A Daily Dose of Toni
- Come join in!