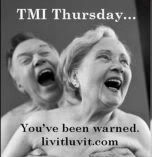 If Livit LuvIt can do a TMI Thursday so can I. Skip over to her blog for the rules if you want in on the action.
This, my lovely blog friends and stalkers, is my first TMI Thursday. I was never really sure I had the guts to be a part of TMI Thursdays, but what just happened to me is priceless and funny and embarrassing and my god, I must have been half asleep getting dressed for work yesterday morning.
So I am on my way to the bathroom, first trip of the morning belly full of coffee so I really had to pee bad.
Why do most TMIs happen in the bathroom?
Lifted up my skirt, dropped my thongs
Who drops their thong? I pulled them down and went pee, you know, the usual way for girls to pee. (all you perverts get that mental picture out of your head)

Did a llittle Facebook status' reading on my crackberry (don't tell me you don't take your phone in the bathroom with you and read a few emails) and then after a few minutes decided I was finished with my bathroom antics. Proceeded to pull everything back up - so here I am pulling up my thong and noticed it was on sideways, (do you know what the means-seriously now, do you? If you're a girl you do!! ) How the hell does that crap happen? I sit back down because now I have to take the damn thing off to put it on the correct way - struggling with getting it over my 6" pumps, it gets stuck on the heel while taking if off. Now to put it back on - those things are so tiny and the side could be the back, which could be the bottom, which could be the other side, no wonder I put it on wrong to begin with. FINALLY I figure out which end goes where. Then I notice since it was on sideways that the moisture side that was down (ewww) will now be on my right side hip. God, why? ewww, does it smell? will it dry, will I have to walk around like that all day? All these questions are going through my head and I tip toe out of the bathroom wash my hands and creep back to my desk. SAFE!!

Totally embarassed!