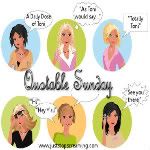 CHILDREN!

If you can give you son or daughter only one gift, let it be enthusiasm!
- Bruce Barton
Ask your child what he/she wants for dinner only if they are buying! - Fran Lebowitz

It is not giving children more that spoils them; it is giving them more to avoid confrontation! - John Gray

Outings are so much more fun when we can savor them through the children's eyes!
- Lawana Blackwell